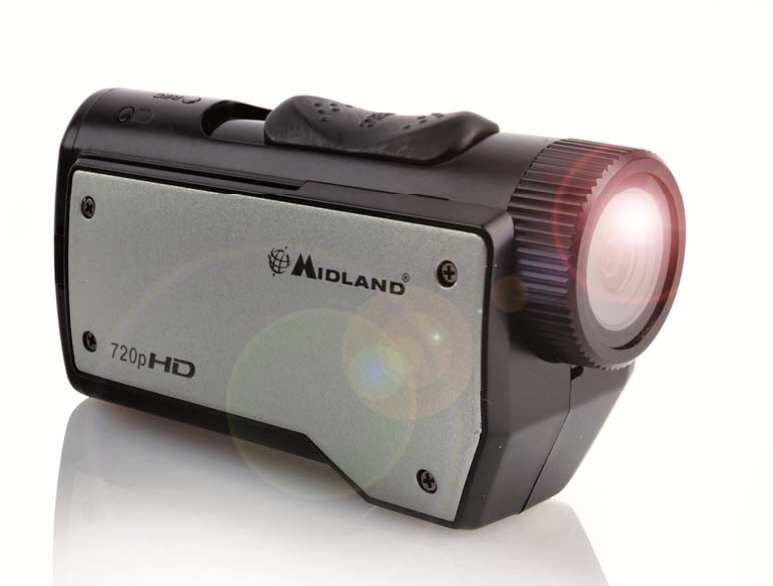 Photo: Midland XTC-260, p/n CTE C1144
Midland widens the range of its XTC line with the addition of model XTC260, a new 720p HD Ready Action Cam.
XTC260 is a wearable camera designed for outdoor activities and perfect for capturing your everyday experiences or sport adventures; extremely light with its 88,7 gr and limited dimensions with only 8,5 cm of length, XTC260 is the smallest HD Ready action cam on the market today.
As for all Midland action cameras, also for XTC260 the ease of use is the point of strength: with a single switch that simply slides on, you turn on/off the camera and record your videos.
Essential and convenient, XTC260 guarantees top performances at low cost.
The packaging includes a Li-Ion battery pack 3,7V, 2 fixing kits to the helmet, USB cable and a submersible case 30mt that protects the action cam from water, dust and other substances that may damage it.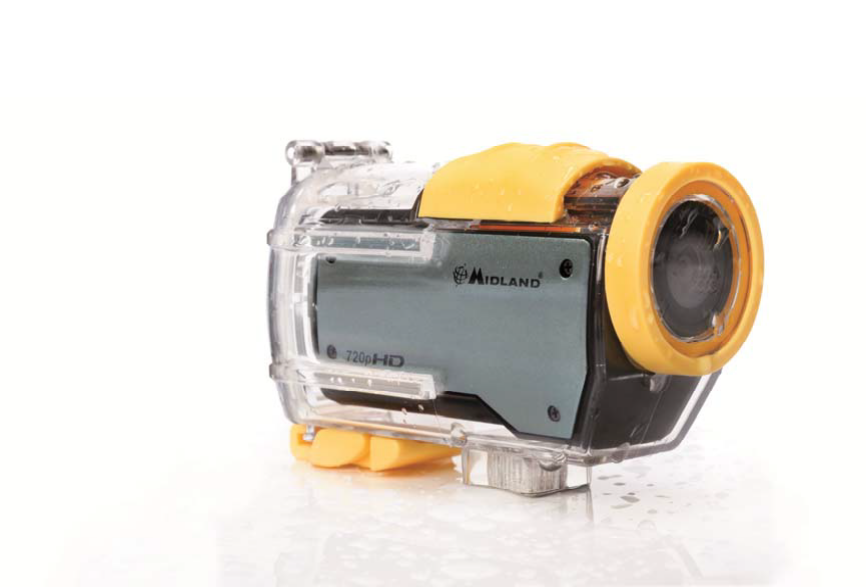 Photo: Submersible Case for CXTC-260
Main features:
One touch operation ON-OFF/REC* Image stabilizer
Resolution: 1280×720 pixel (30fps) / 640 x 480 pixel (60fps)
Field of view: 140° degree glass lens
Aspect ratio: 16:9
Battery pack: Li-Ion 3,7V 900mAh
Dimensions LxDxH: 85,5 x 30,3 x 42,2 mm
Weight: 88,7gr
Storage: up to 32GB micro SD card (not included)
Data transfer: USB 2.0
Recharge: USB cable or wall adaptor
Operating System Compatibility: Win XP, SP2, Vista & 7. Mac OSX x 10.4+
Video downloading from the Action camera to the PC through the USB cable
Data download only from the camera to the PC (it's not possible to upload external data on the camera)
COLOR: Black and silver
What's in the box:
Midland XTC-260 action camera
Li-Ion battery pack 3,7V 900mAh
USB cable
Submersible case 30mt
Universal fixing kit with 2 bi-adhesive bases
Optional accessories:
XTC Suction Cap Mount – cod. C980.01
XTC-Ski goggle mount – cod. C989
XTC- Velcro strap for bicycle helmets – cod. C991
XTC- Handlebar mount – cod. C992
XTC-Surf /Snowboard mount – cod. C1038
XTC-Head strap mount – cod. C1040
XTC- Cap mount – cod. C1012
Lateral slide – cod. R73161
XTC- Bi-adhesive support for helmets – cod. C990 (accessory included in the packaging)
RAM Roll bar mount – cod. C1042
RAM Magnetic mount – cod. C1041
RAM Moto and Quad mount – cod. C1052
Picatinny Rail mount – cod. C1039
XTC- Universal mount for rifles – cod. C1064.01
XTC – Rifle mount – cod. C1066
XTC- Tree mount – cod. C1062
XTC- Bow mount – cod. C1068
CC-XTC280 – Submersible case up to 60 m – cod. C976.01
Memory card 8GB – cod. C1067
Memory card 16GB – cod. C1067.01
Memory card 32GB – cod. C1067.02
XTC- Li-Ion battery pack 900mAh – cod. C1015
Emergency charger – cod. C920