Avera is importing many famous USA brands like GearKeeper, Magnum, Motocom, K40, Willson, Astatic, Solarcon, RoadPro etc. To meet these companies or brands I travel to the USA a couple of times a year.
To prevent travelling too much it is often easier to visit a trade show. That enables you to meet several companies on one location.
There are three major trade shows in the world for consumer electronics. In USA is the CES, Consumer Electronics Show. In Europe it is the IFA in Berlin. And in Asia it is the Hong Kong Electronics Show.
For more than 20 years I visit the CES in Las Vegas to meet business relations from USA and around the globe.. Although Avera is also doing business with several companies in Asia for over 35 years this was my first time to visit two electronic trade show in Asia.
CHINA SOURCING FAIR AT AIRPORT EXPO

The first show that I visited was at the Expo Center near the Hong Kong airport, Just to walk along all the booths takes more than a full day. Surprisingly within 30 minutes we ran in to two relations from USA who frequently visit this show.
Let it be clear, there is no real trade show for consumer communications anymore. Our business is just a very small part of the general consumer electronic business. What we saw from many factories were items like mono pods/selfie sticks, power banks/USB chargers, headphones, keyboards, tablets. All kind of items that are popular by a large public, bought by many and made by many.
headphones were available from many sources.
PORTABLE RADIOS
In the field of consumer communication there were many companies offering PMR446 or 2M/70CM portable transceivers.
In the past companies like Kenwood complained about a brand like HYT that was copying there products. Now a days HYT is grown to a 'regular' company and there are companies that copy HYT and their digital line called HYTERA.
You will find brands with nearly same names or nearly same logo's that sell nearly same products.
We know HYT but never heard before of HQT.
 We know HYTERA but never heard before of KYDERA.

CB/27MHz
I hoped to see the few manufacturers of CB transceivers that are still around but I only found two. The only thing they showed that is not totally new on the market, but not regularly sold in Europe is a CB with a bluetooth dongle.
This enables you to communicate with a bluetooth device in stead of the regular CB mic.
CB transceiver with Blue Tooth dongle.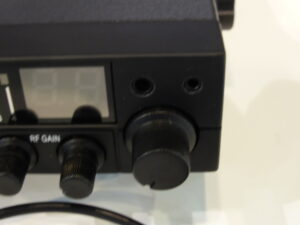 The dongle has a two pin connection,
on the front is the jack to plug in the dongle.
Another company manufacturing CB and 10 meter radios we saw was Anytone. There products are not very popular in Western Europe or USA. The quality is mostly not to be compared with Uniden/President or Midland.
 Anytone showing some product.
So far the show at Asia Expo, next time I will write about the Hong Kong Electronics show that started October 13.