The first show I visited in Hong Kong was the China Sourcing Show. Read my former blog about this show. The second show I visited last month was the Hong Kong Electronics Fair. This trade show is much larger than the first one. It will take you 2 days just to walk along all the booths.
Entrance of Hong Kong Electronics Fair

SIMULAR SHOW

The show is larger but also quite similar to the first show. Again we saw lots of headphones, selfie sticks/mono pods, action cameras, power banks, key boards and tablets.
But this show also has many more suppliers of coax, inverters, portable radios and even some CB manufacturers.
PORTABLE RADIOS
I wrote already about the many brands that copy other brands and here we saw it again. But this time there were many more manufacturers from portable radios like PMR446, 2m/70cm VHF/UHF and HAM. The result was a lot of the same. After visiting 10 booths with portable radios I did not bother to much anymore about checking all the others. Some brands we know in Europe and some we had never heard of and are not available in the western world.
Wouxun HAM radio with power supply
Wouxun Portable radios
OEM manufacturer for portable radios
CB RADIO
Uniden is the only large manufacturer that brings CB radios on the market using their own name. They were not present with a booth, but we saw some traders offering this brand.
Uniden PMR446
The factories that were displaying CB radios at the show are not known by CB users by name. But the brands they produce for third parties are well known in Europe. In the European market we never see a brand like Yosun, but in Asia live much more people than in Europe. There is a big market for radios in that area too. But Yosun is also producing for Albrecht and Lafayette.
Unknown factory making well-known brands
ACCESSORIES
Personally I was a little disappointed about the number of companies showing accessories. A lot of portable radios, coax, connectors, inverters but CB accessories were hard tofind.
One booth showed antennas that were copies of President, Sirio and USA type of antennas.
Antenna models from President, Sirio and others.
MIDLAND
It was a nice surprise to see that Midland had a booth at the Hong Kong Electronics Fair. Also in USA at CES they are always present to show the latest items they sell.
Midland present at Hong Kong Electronics fair
Midland has a large range of action cameras. In Hong Kong two brand new CAR CAMCORDERS were showed. One regular model and one with GPS included. Great small cameras for in your car to record all that is happening in front of you. A 5 cm display shows what is recorded. Soon these two cameras will be available from Avera!
Watch for the Street Guardian and Street Guard GPS!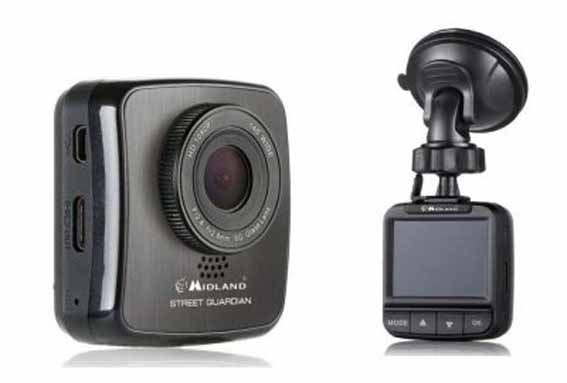 Midland Street Guardian, Car Camcorder
CONSUMER ELECTRONICS SHOW LAS VEGAS
Visiting these two shows was quite interesting. Mostly because it was my first visit to the Far East. Trade shows all over the world are quite similar. You also often meet the same people, but what else to expect in our consumer communication branch. It is a small world!
In January it is time again to visit the CES in Las Vegas. And you know: "What happens in Vegas stays in Vegas !"
But… I promise you all, I will write about the Consumer Electronics Show so you know what was happening there.