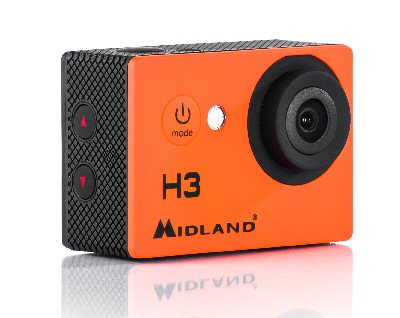 Midland completes the new H series with a simple and essential model, the perfect solution for those who approach the action cam world for the first time.
Midland H3 is a HD ready action cam with 1280x720p resolution, characterized by a frontal form factor. Its wide 2" LCD display allows to frame, easily adjust the settings and reproduce pictures and videos.
H3 is equipped with 120° wide angle lens and image stabilizer for excellent shoots, also for extreme use. H3 is a simple action cam, with small dimensions and low price, but it has the maximum quality level that characterizes the Midland action cams.
It is equipped with multiple functions, among with the time lapse (photo sequence at pre‐set time), self‐timer (self shoot) and CAR DVR: H3 can be installed in the car and it continuously records what happens while driving.
H3 is also equipped with a submersible case that protects it from water up to 30 meter depth, but also from mud and dust.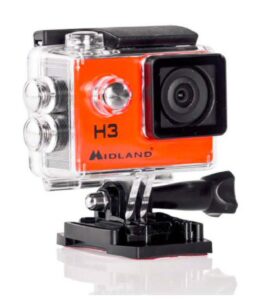 The accessories supplied with the H3 allow different uses of the action cam; for example it can be mounted on helmets, handlebars and bike helmets. It is possible to create every solution fitting your needs!
COMPLYING TO CE/99/05
Main features:
Video resolution: 1280×720 (HD) / 640×480 (SD) @30fps
Photo resolution: 5/3/2/1 MP
Wide angle lens: 120°
Sensor: CMOS 5MP
Aspect ratio: 16:9
Format: AVI
Li‐Ion battery pack 900mAh up to 110 min
SD card: up to a 32Gb (optional)
Dimensions: 41x59x29mm
Weight: 58g (with battery)
The package contains:
H3 Action camera
Submersible case up to 30m (compatible with H5)
Interchangeble front cover (black/orange)
Li‐Ion 900mAh battery pack (compatible with H5)
USB cable
10 mounting supports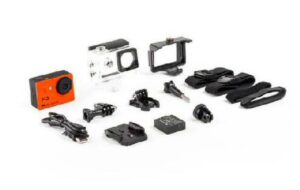 Optional accessories:
ACC‐H3 Set of accessories – code C1244
WPC‐H5 Submersible case up to 30 m, compatible with H3 and H5 – code C1247
PB‐H5 Li‐ion 900mAh 3,7V battery pack, compatible with H3 and H5 – code C1246
Chest mount – code C1115
XT POD MINI Monopod mount 18 cm – code C1116
XT POD 2S Telescopic multicam 2‐section monopod 80cm – code C1116.01
XT POD 3S Telescopic multicam 3‐section monopod 112cm – code C1116.02
Suction cap mount– code C980.01
Universal mount for rifles – code C1064.01
RAM roll bar mount – code C1042
RAM Moto‐Quad mount – code C1052
Handlebar mount – code C992
Cap mount – code C1012
Tree mount – code C1062
Bow mount – code C1068