After World War II  many young Dutch farmers have moved to the USA and Canada. There was not enough space in The Netherlands for large scale farming, so they decided to go West. Travelling in USA and Canada you still can find typical Dutch family names. Seeing such a typical Dutch family name is always a good reason to start a conversation. Many are second, third or fourth generation and they do not speak Dutch at all. But some still do and even have the local accent from the area the (grand)parents came from.
This year we met a tall man with the name badge 'DIRK BINNEMA'. That family name is typical for Friesland, an area located in the northern part of The Netherlands. Enough reason to start a conversation. He told us he moved to the USA around 2002 so he still spoke his native language without any problem.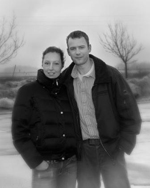 Dirk and Ellen Binnema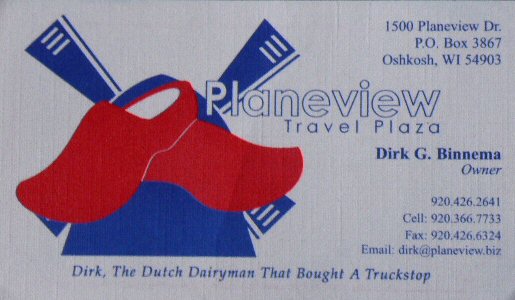 Dirk even was in the same business as we are, he and his wife Ellen are the proud owner of an American truckstop called 'PLANEVIEW' in the city of Oshkosh in Wisconsin.
BUYING A TRUCKSTOP
Dirk and Ellen's story begins in Friesland, the Netherlands. Dirk grew up on a dairy farm and Ellen lived not far from him on a crop farm. Dirk studied agriculture, and in 2001 took a farm tour in the US. Soon he returned with his mother, and visited Wisconsin. They were excited about the friendly people they met, and the American way of life. Dirk decided he wanted to remain in the US permanently and start or buy a dairy farm.
His adoptive family, Ron and Judy Brath, welcomed him into their home, and looked for business opportunities here. In 2005, Ron discovered that Planeview Travel Plaza was for sale. He helped throughout the sale, and Dirk became a Wisconsin business owner!
Since that time Dirk is promoting his business with the slogan "Dirk, The Dutch Dairyman That Bought A Truckstop".
CB SHOP

Every good truckstop or travel center in USA has a section where they sell CB radio's and a line of accessories. In Dirk's shop you will find transceivers from Uniden, Midland and Cobra. Also antennas from Wilson, K40, RoadKing and more.
Part of the shop, antennas, cb transceivers and 'hiking sticks'.
GIFT SHOP AND RESTAURANT

In addition to all of snacks, beverages, and goodies in the convenience store, there is also a gift shop located inside Planeview Travel Plaza. With a variety of unique items and souvenirs, there is something for everyone. The fun part is that they have many Dutch gifts available for everyone to experience a small part of the Dutch heritage, including the very popular Wooden Shoe Slippers!
They also sell typical Dutch food like 'hagelslag'. Some American people buy this stuff without knowing how to eat this. This results in some good hilarious stories, so Dirk tells us.
But there is serious food business in Planeview as well and in the kitchen they also make food based on Dutch recipes.
CERTIFIED CAT SCALE

Travelling in USA you will see weight stations near every state border. Overweight is common in USA for people, but not allowed for truck loads.
Planeview Travel Plaza has a Certified CAT Scale at the Truck Stop to weigh an entire truck and trailer unit while passing through or before heading back out. With strict weight regulations and fines associated with violations, ensuring you are under the weight limit is extremely important.
When using the CAT brand scale, the driver is covered by a guarantee – if you receive an overweight fine after weighing legal on a CAT Scale, CAT will either pay the fine or appear in court with you in order to get the ticket dismissed. In either case, the driver will not pay the fine as long as you were weighed on the CAT scale prior to the citation.
This kind of service is not very common in Europe.
website www.planeview.biz
If you want to know more about Dirk's business 'Planeview' visit his website. And if you are in USA near Wisconsin, stop for some Dutch food and hospitality.