SCANNERS AND RADAR DETECTORS IN EUROPE

The communication from police and emergency services (fire department and ambulances) in most European countries is based on TETRA technology.
Tetra is a kind of trunking system and very often the users apply scrambling to make ear dropping impossible. So with regular scanners it is impossible to listen to the TETRA communications.
Where in USA the use of radar detectors is legal in many states, in Europe this is illegal in most countries. An example; in The Netherlands a dealer can be fined for 500 euro for EACH radar detector that there is available for sale.
So in Europe listening to police communication or using a radar detector is impossible to prevent getting speeding tickets. Now a days most drivers use apps on the phone to be warned for mobile or stationary speed traps. These are not 'dynamic' information systems and are legal to use in most European countries.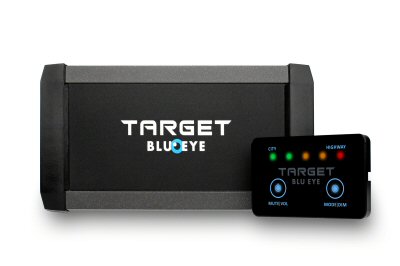 Photo: Receiver and Display
TARGET BLU-EYE
Police and emergency vehicles use high speed when there is an incident. Regular drivers often are frightened away when they are approached by a blue light vehicle on high speed.
To prevent frightened reactions from drivers that might cause dangerous situations on the road, Blu Eyes was developed. It warns drivers that emergency vehicles are coming close.
HOW IT FUNCTIONS
The TETRA system does not only transmit communications, but also a GPS signal to know where the vehicle is located. Listening to encrypted communications is illegal, but receiving a GPS signal is strictly legal.
The Blu Eye detects the signal from an emergency vehicle and the device informs with an acoustic or visual signal or that vehicle is coming close or moving away. That is why the Blu Eye is a great warning system for approaching emergency vehicles.
Last year the Blu Eye came in the news, not because people used it as a warning for speed traps by the police, but because criminals used the set also in buildings. If a police car came close the set gave a signal so they knew a police car or emergency car was approaching the location.
They who know how the TETRA system and the police operate do know that when it is 'detective' work officials will not use the Tetra system. In these cases they prefer cell phones or special frequencies outside the TETRA band. Also in case a transceiver is switched off there will be no GPS signal to detect.
PRICE AND DELIVERY
The target Blu Eye has an end user price for Euro 999 including VAT (Sales Tax)
The set comes complete with a covert bumper antenna.
+++++++++++++++++++++++++++++++++++++++++++++++++++
FACTORY INFORMATION 
BASED ON TETRA TECHNOLOGY
Target Blu Eye is based on TETRA technology. Target Blu Eye is a unique and worldwide patented traffic safety system that warns you in advance for approaching emergency service vehicles. Even if such a vehicle is not using its siren and flashing lights. Due to Target Blu Eye you will be warned with an acoustic and visual alert. The signal strength meter on the control display allows you to see at first glance whether an emergency vehicle is approaching you or moving away from you.  Not intended as a warning system when speeding, but it might help to slow down your speed when accidently driving to fast.
Starting December 12 – 2016 the covert vehicle bumper dipole antenna, type Panorama VCD-S1-5F is added free of charge.

Photo: Covert bumper antenna
FEATURES, FUNCTIONS AND SPECIFICATIONS:
Does Target Blu Eye function abroad?
The Tetra network for emergency services is also used in the countries surrounding The Netherlands, such as Belgium, Croatia, Germany (nationwide in 2014), Austria, Great Britain, Scandinavia, Slovenia, Spain, Portugal, Hungary and Italy.
Target Blu Eye is Based on Tetra Technology.
BE: In Belgium the system is called ASTRID and Blu Eye functions very well in Belgium.
ES: In Spain Blu Eyes functions in and around Barcelona and the North of Spain. Guardia Civil is using old TetraPol system and is not detected by Blu Eye.
NL: In The Netherlands the system is called C2000
UK: In UK the system is called AIRWAVE.
FRANCE: France Authorities use an old TetraPol Network. Blu Eye does not function on TetraPol because there is only one synchronisation pulse each minute.
This is link to official BLU-EYE website. Now you can find there information in Dutch, English, French and Spannish.
◾ Blu Eye website
The innovative and new traffic safety system Target Blu Eye consists of a central unit, a control display and an external antenna. The system is based on TETRA network. If an emergency service, e.g. a police car, is nearby, you will be warned in advance with an acoustic and visual alert. The signal strength meter on the control display allows you to see at first glance whether an emergency vehicle is approaching you or moving away from you.
Acoustic warnings: The communication system used by emergency services in your country generates four types of communication patterns. Target Blu Eye recognizes all four patterns and produces four different acoustic signals. All signals indicate the presence of an emergency service close to you. For more detailed information, read the user manual.
Visual warnings: Besides acoustic warnings Target Blu Eye also generates visual warnings by means of the signal strength meter on the control display. If an emergency vehicle approaches you, regardless from which direction, the signal strength meter gives you an estimated indication about the distance between you and the emergency vehicle. For more detailed information go to the user manual.
Sensitivity mode: Two sensitivity modes can be selected on the Target Blu Eye control display: 1.Highway mode: in this mode Target Blu Eye offers the highest sensitivity, which allows the system to recognize emergency services from a large distance. 2.City mode: in this mode Target Blu Eye offers a lower sensitivity. This mode is recommended for use in urban areas. De detection range of Target Blu Eye varies from hundreds of meters up to approximately one kilometre. The range depends on the selected sensitivity mode and the environment. Due to this highly advanced technology, Target Blu Eye is able to warn you in advance for approaching emergency services, such as:
◾ Police cars (marked and unmarked cars)
◾ Police motorcycles
◾ Ambulances
◾ Fire trucks Due to Target Blu Eye you will increase your own safety, the safety of other drivers and the safety of the emergency services.
The advantages of Target Blu Eye:
◾ Warns you for approaching emergency services such as marked and unmarked police cars, ambulances and fire trucks.
◾ Prevents unpredictable and dangerous manoeuvresIncreases your own safety and the safety of other road users.
◾ Prevents material damage & personal injuries.
◾ Indicates whether an emergency service vehicle is approaching you or moving away from you.  Increases a relaxed way of driving.
◾ Compact sized and easy to install.
◾ Two years warranty.  Being of assistance to emergency services.
◾ Target Blu Eye: an eye for safety.
DONTT BE SURPRISED WITH TARGET BLU EYE GET A REAL-TIME WARNING FOR APPROACHING EMERGENCY VEHICLES!
Is it legal to use Target Blu Eye in Europe? Yes, the use of Target Blu Eye is legal since the system is only informing the driver whether an emergency service is nearby. Moreover, Target Blu Eye does not make any difference between police vehicles, ambulances or fire trucks. You will be warned of all types of emergency vehicles. We would like to emphasize that Target Blu Eye is not able to decode the radio messages broadcasted by the TETRA network.
PACKING INCLUDES: 1 Pc of Central Unit. 1 Pc of Control Display. 1 Pc of Standard Antenna with 2,5 meter Antenna Cable. 1 Pc of Cable between Central Unit and Control Display. 1 Pc of Power Cable Including Fuse. 1 Pc of SD Card. 1 Pc of Quick Start Manual in Dutch, other lauguages to be downloaded. 1 Pc of Panorama VCD-S1-5F =  Covert Vehicle Bumper Dipole Antenna for TETRA.